At the airport
Enjoy a fast and individual service
Check-in
At check-in, priority counters are dedicated to Business Class customers to ensure time saving.
You may embark at your convenience and be among the first passengers to leave the aircraft upon arrival to collect your luggage.
You are allowed 2 luggage of 23kg throughout our network*.
You earn more Flying Blue miles and get faster access to program benefits.
* Except on the Nouméa - Nadi - Wallis service where luggage allowance is 30kg total.
Your business lounge
In Noumea, Brisbane, Sydney, Auckland, Papeete, Nadi, Tokyo, Singapore, enjoy the comfort of our business lounge during transit. Calm atmosphere, modern and elegant decor, buffet, drinks, press, wifi connection, our lounges have all been designed to meet your needs and expectations.
The Aircalin Hibiscus Lounge, located on the second floor of La Tontouta Airport, is available before boarding whether you are a passenger of our Business Hibiscus Class, a special customer or a "Business" customer of one of our airline partners. Enjoy panoramic views of the runway and the mountain range in the distance.
Comfort
A refined cabin and services
A modern and elegant cabin
Discover the  Aircalin Business Hibiscus Class, which is resolutely modern and innovative. With different shades of beige, white, with subtle coral-coloured touches, the new Hibiscus Business cabin is elegant, comfortable and resolutely Caledonian. The absence of luggage racks above the central rows further reinforces the impression of space and the cabin benefits from light fittings specially adapted to each phase of the flight. With more space, the Aircalin Hibiscus Business Class, is available on our long and medium-haul Airbus A330neo flights.
Resolutely Caledonian
Inspired by traditional Melanesian weaving, the seat covering appears to be woven from 4 colours to give a unique and exceptionally elegant result. Through wooden motifs, "yellow headed" coral and Melanesian motifs, New Caledonia imprints its presence on the cabin. There are many subtle and elegant touches to discover throughout your flight, such as the sand of New Caledonia's most beautiful beaches, the white and beige tones of the seat shell, the fabric, the walls and even the curtains which lend a sense of peace to the cabin.
A modern seat and a three-fold innovation
The Stelia Opal is a state-of-the-art seat envisioned by Bruno Saint Jalmes, a renowned designer who collaborates on a regular basis with world-class luxury car manufacturers. This comfort foam seat features three great innovations:
It tilts to a perfectly flat bed
It provides each passenger with a direct access from the aisle  
The shell shape offers each passenger his own space and privacy
Numerous storage, swiveling reading light, cocktail tablet to put your laptop, a "treasure" box to store your small belongings during the flight ... everything has been designed to make your trip a very unique and top-end experience.
A connected seat
Our innovative, Business Hibiscus seat offers many features, including:
A USB socket and a 110-volt socket to recharge your electronic devices
The possibility of using your own headphones
A large, state-of-the-art, 39cm HD LED touch screen with remote control
A rich and intuitive entertainment system with more than 150 programmes (latest films or classic movies, TV series, music, documentaries, games...) and new features (3D interactive map, external camera...)
360° Video
Business Hibiscus long haul, A330neo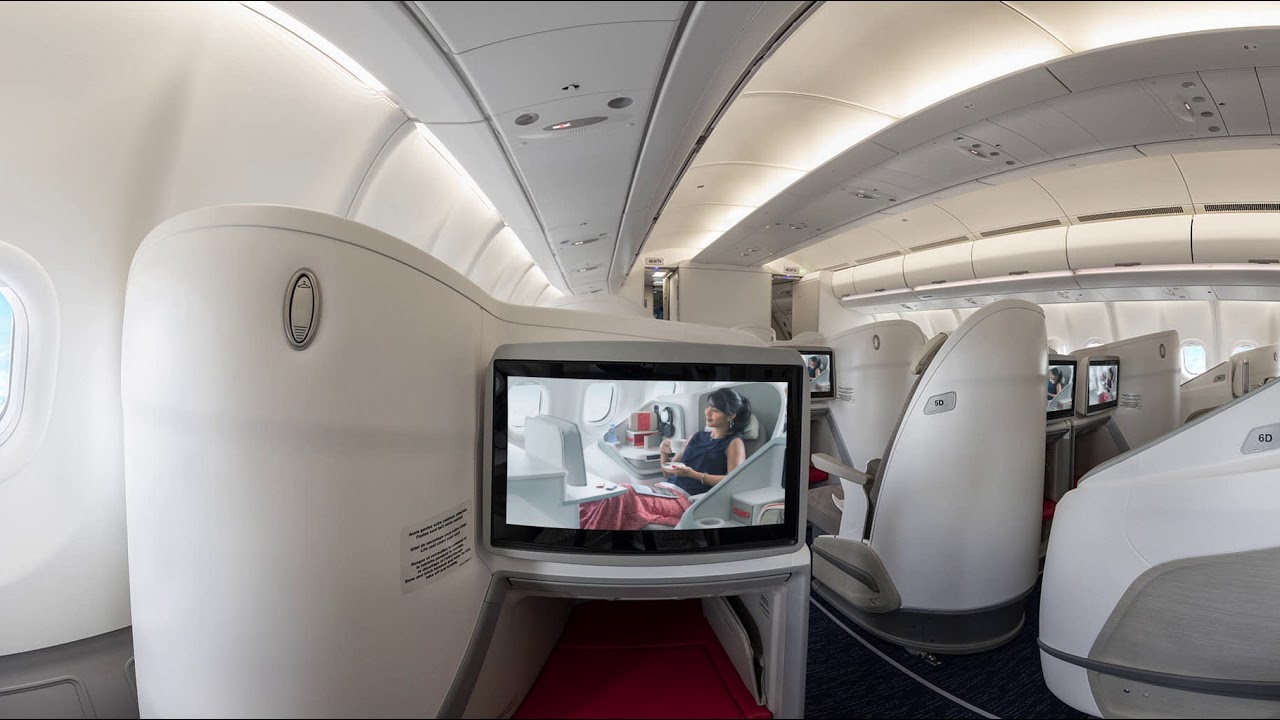 The fleet
Caledonian inspiration

AIRBUS A330 NEO (F-ONEO and F-ONET)
291 seats including 26 in Hibiscus class
Commercial flight capability: 12h / 12 000 km
➜ Discover (Ajouter lien)
4 reasons to travel together

Caledonian way to travel

Innovative fleet and reduced environmental footprint

More than 100 destinations and 60 airline partnerships

Safety and compliance