1983-1988, the first steps
1983: Birth of the company and first flight Melbourne-Nouméa
1984: Acquisition of a Caravelle named "Marina", the company's only aircraft.
1987: Aircalin serves Sydney, Auckland and provides the link between Wallis and Futuna operated by Twin-Otter.
1988-1999, conquering the Pacific
1988: Aircalin acquired a Boeing 737 and has carried 66,000 passengers since its creation.
1993: Papeete and Wallis and Futuna were added to the international network. 
1996: Aircalin became a member of IATA (International Air Transport Association)
2000-2013, the long-haul adventure
2000: 1st flight Noumea-Osaka operated by Airbus A310 
2002-2003: The company acquired two new A330s to develop its long-haul network 
2003: Aircalin made its first flight to Tokyo. Aircalin and Air France operate in code share via Osaka and Tokyo to ensure the link between New Caledonia, France and Europe.
2004: A new Airbus A320 designed to develop the regional network joined the fleet.
2008: Opening of the Seoul route
2014-2019, full speed ahead
2014: Opening of the Melbourne route and entry into the fleet of a second A320.
2016: Aircalin voted best overseas airline for its Economy class.
2019-2021, new challenges
2019: Aircalin is renewing its long-haul fleet with 2 A330neo aircraft. These latest generation aircraft are more comfortable, more efficient and more environmentally friendly.
2020: Aircalin suffers the full force of the health crisis. The company implements an action plan based on reducing its costs, partially postponing its investments and resorting to borrowing. Aircalin takes delivery of an A320neo, a new aircraft with a new and attractive configuration and the creation of a Premium class.
2021: Aircalin diversifies its activities and positions itself on charter flights, particularly very long-haul flights to Paris. The company's health safety procedures are rewarded and it obtains the highest level of health safety certification for its operations. After 20 months of suspension, in December 2021, Aircalin resumes a commercial flight program, the company has demonstrated its ability to resist.
2022, renewal and ambition
With its agility and experience, Aircalin is ready to undertake new projects and take on new challenges in the months to come.
2022: on 1st July 2022, Aircalin opens a direct flight between Noumea and Singapore. A new link to Southeast Asia and Europe, and ambitions for the development of tourism in New Caledonia.
Our History
Review the story of our company by simply clicking on the video below: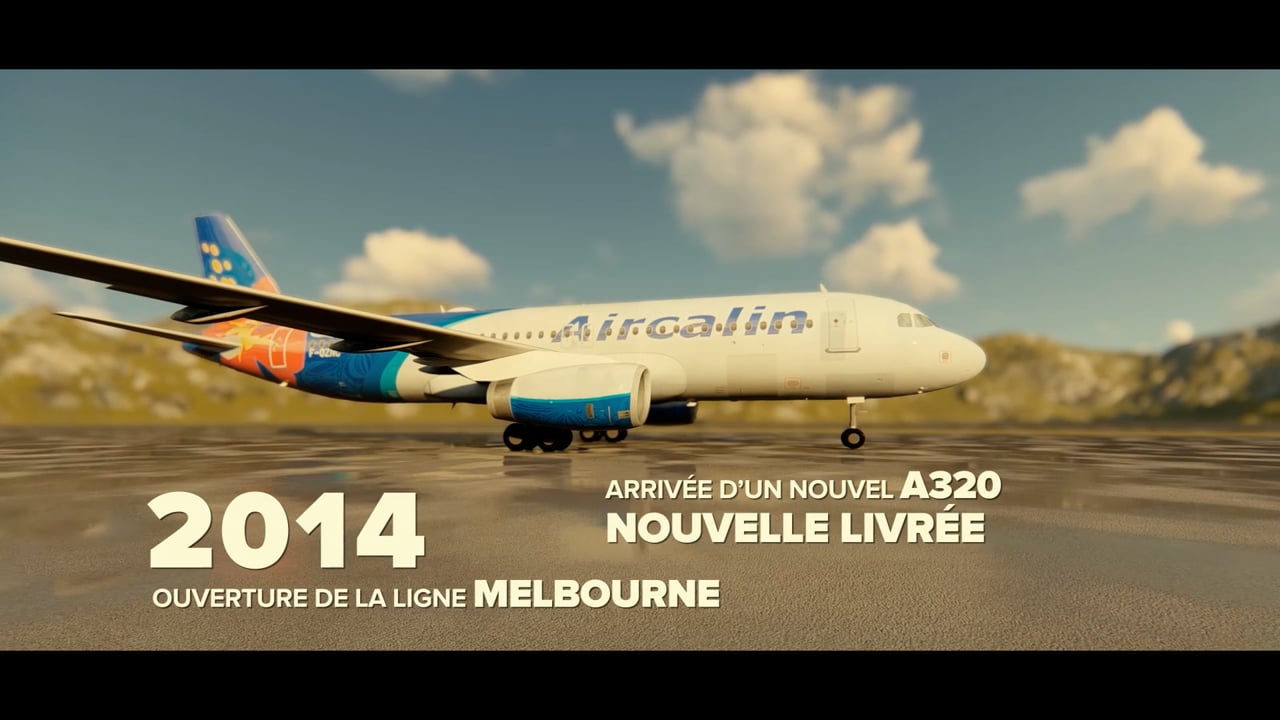 4 reasons to travel together

Caledonian way to travel

Innovative fleet and reduced environmental footprint

More than 100 destinations and 60 airline partnerships

Safety and compliance