At airport
Embark at your leisure
Choose online check in
You can check in online 30hrs before your flight departs on aircalin.com. Online Check-in allows you to:                                                          
Save time at the airport
Preselect your seat
Book your à la carte services
Save your boarding pass on your mobile using the iOS Wallet application
Airport services and facilities
Services and facilities available at some airports on Aircalin's network will make your experience pleasant and convenient.
Currency Exchange desk Banking services (ATMs)
Transport (taxi, shuttle, rental cars)
Free Internet access - Wi-Fi*
*except Wallis and Futuna and Port Vila airport
Comfort
New Caledonian culture in the spotlight
New Caledonia's lagoon inspired design
Discover Aircalin's Economy Class with all the latest innovations of the Airbus Airspace package.  244 seats (A330 Neo) specifically designed for Long-Haul flights and up to 168 seats (A320 Neo) on Medium-Haul and Short-Haul flights. The modern and relaxing atmosphere offers "Mood Lighting" adapted to each phase of the flight. Aircalin's Economy Class is available on operated Long-Haul, Medium-Haul and Short-Haul flights on both A330 neo and A320 neo.                                            
Escape in the heart of New Caledonia's lagoon
The subtle but lustrous feel of the Economy Class brings the emphasis on New Caledonia's lagoon and culture.
In shades of blue, you will find the entire colour palette of the New Caledonian lagoon featured in the cabin.
The rear of the Economy Class cabin, features a wall decor representing the Ocean motif of the livery. Designed in a various shades of grey, they complete the cultural inspiration of Economy Class. 
A modern, comfortable seat
On all our flights, the Economy seats offer many features:
An entertainment offer integrated into the seat and accessible to all
A USB socket to charge your electronic devices
The possibility of connecting your own headphones          
On flights operated by the A330neo, the Economy seat has been designed to allow a restful trip on Long-Haul flights thanks to a comfort foam and a seat tilt effect to accentuate the incline. You also have access to a 110-volt outlet accessible for each passenger.
Want more legroom during your flight, a quick disembarkation on arrival, a prime location at the front of the aircraft or next to a loved one? Book your Seat Plus.
360° Video
Economy long haul, A330neo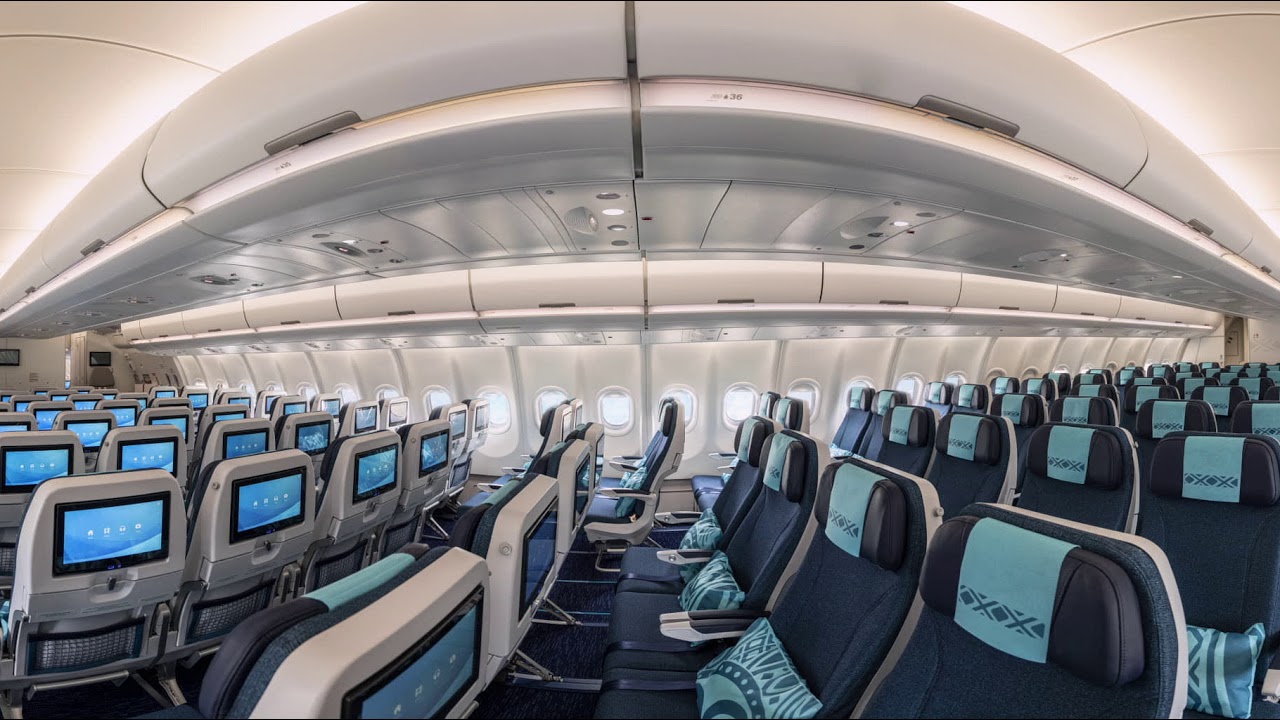 The fleet
Caledonian inspiration

AIRBUS A330 NEO (F-ONEO and F-ONET)
291 seats including 26 in Hibiscus class
Commercial flight capability: 12h / 12 000 km
➜ Discover (Ajouter lien)

AIRBUS A320 NEO (F-OTIB)
A maximum of 168 seats
Commercial flight capability: 7h30 / 6 300 km
➜ Discover (Ajouter lien)
4 reasons to travel together

Caledonian way to travel

Innovative fleet and reduced environmental footprint

More than 100 destinations and 60 airline partnerships

Safety and compliance